Friday, April 20th at 7:30: PASSENGER 1963, by Andrzej Munk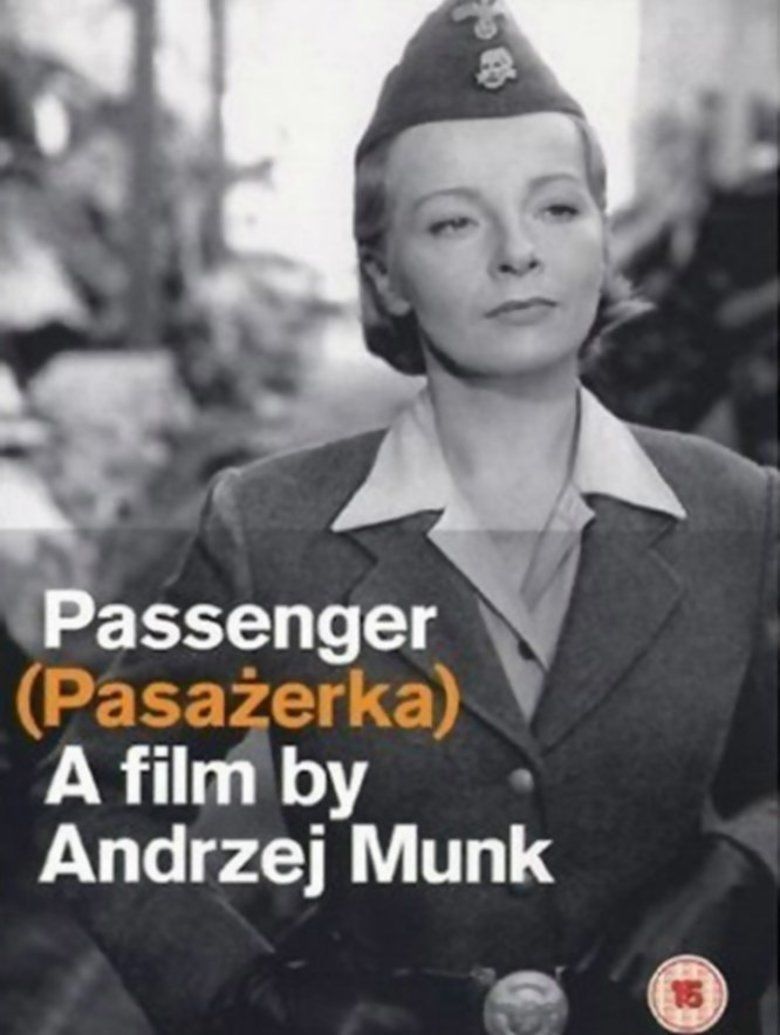 Passenger (Polish: Pasażerka)
is a 1963 Polish feature film directed by Andrzej Munk. Munk died in a car crash during screening. The unfinished film was assembled for release by directors Witold Lesiewicz and Andrzej Brzozowski. The film (1h 2 min) is in Polish, with English subtitles, at Polish Home upstairs, Friday, March 16, 7:30 pm.
The last film of Andrzej Munk, who died in a crash during the filming. A German woman (played by Aleksandra Śląska) on a ship coming back to Europe notices a face of another woman which brings recollections from the past. She tells her husband that she has been an overseer in Auschwitz during the war, but she has actually saved a woman's life. Her vision is shown and then the actual events.
Written by Polish Cinema Database
The source was a radio drama Passenger from Cabin Number 45, written in 1959 by a survivor of Auschwitz and Ravensbrück concentration camps,
Zofia Posmysz
-Piasecka. Posmysz's play was later reworked into a novel. It was published in 1962 as
Pasażerka
. The novel was subsequently translated into 15 languages. The original radio drama was adapted for an award-winning feature film, while the novel was adapted into an
opera by the same title with music by Mieczysław Weinberg
.
From
Harvard Film Archive
: [...]
Andrzej Munk's tragic death at age thirty-nine might have formed the plot for one of his own darkly sardonic works: a Polish Jew and an active resistance worker during the war, he was returning home from shooting his film Passenger at the Auschwitz concentration camp in 1961 when an oncoming truck struck his car. He left behind only four feature films, but his influence was prodigious. As one of the key figures of the postwar "Polish School" of filmmaking, along with Andrzej Wajda and Jerzy Kawalerowicz, he helped to shape a vision that broke with the official social realist optimism of Eastern-bloc dogma and cast a skeptical eye on official notions of heroism, nationalism, and life in the Stalinist-occupied state. Teacher and mentor to such cinematic heirs as Roman Polanski and Jerzy Skolimowski, his influence can be felt even in the films of a later generation of Polish filmmakers—directors like Zanussi and Kieslowski.
Munk's cinema—often compared to the literature of his compatriot Witold Gombrowicz—showcases the ways in which ordinary people go about making sense of extraordinary times; and if sense can not be found, his films imply, then absurdity and satire should take its place. Though he died young, Andrzej Munk brought a fully realized and radically nonconformist vision to a culture caught between the ravages of wartime and the exigencies of a numbing new conformity. It is a body of work that bears re-viewing. [...]
From
Vertigo by David Balfour
: [...]
The film is a combination of the live action material shot on location in Auschwitz prison camp, still photography taken whilst location scouting with actors, and a voice-over that guides the audience through the film. These three elements combine and interact over the course of film. The result is a film that investigates the way memory can act as protection against the past. It exists not only as whole, but also as series of multi-layer speculations into filmic form, that sheds light on the very essence of memory. It is the interplay between the film's form and content which create a unique viewing experience, one that calls on the viewer to re-evaluate not just the memory of the characters in the film but their own memory of the film. [...]
From
culture.pl
:
[...] It is said that Andrzej Munk's idea for The Passenger originated when he had heard a radio broadcast of Zofia Posmysz's Passenger from Cabin 45 (1959). The author, a former Auschwitz inmate, wrote her debut novel after meeting a group of Germans, one of whom, a woman, spoke with a voice confusingly similar to the voice of a guard from the camp. Zofia Posmysz, who had never returned to her camp experiences before that day, revealed that this encounter triggered her decision to look at a concentration camp not from the perspective of a prisoner, which was the common approach in martyrological literature, but of the perpetrator. Such a writing method was a significant novelty in the literature centred around the Nazi death camps. [...]
I cannot find a trailer for the film 'Passenger' (in Polish or English), but here is a link to 46 minutes documentary about Andrzej Munk 'The Last Pictures', (it has English subtitles):
https://www.youtube.com/watch?v=mPzgGpPNHJk&t=8s
Opera Passenger trailer:
Next film on May18th, Friday:
Solaris,
2002 American science fiction drama film written and directed by Steven Soderbergh, produced by James Cameron and Jon Landau, and starring George Clooney and Natascha McElhone. It is based on the 1961 science fiction novel of the same name by Polish writer Stanisław Lem.