May and June films
Film host: Jola Paliswiat
• Friday, May 19th, 7:30 in Polish Home:
Jasminum
(2006) Directed, written by Jan Jakub Kolski - Comedy, Romance
Crew: Camera (color), Krzysztof Ptak; editor, Witold Chominski; music, Zygmunt Konieczny; production designer, Joanna Doroszkiewicz; costume designer, Ewa Helman-Szczerbic. Reviewed at Cairo Film Festival (competing), Dec. 7, 2007. Running time: 109 MIN.
With: Janusz Gajos, Grazyna Blecka-Kolska, Wiktoria Gasiewska, Adam Ferency, Krzysztof Pieczynski, Monika Dryl, Patrycja Soliman, Boguslaw Linda, Krzysztof Globisz, Grzegorz Damiecki, Dariusz Juzyszyn, Franciszek Pieczka.
This film, like ALL OKO movies, will be shown with the English subtitles, BUT there is no trailer on the web with English subtitles.
The peaceful world of a monastery, in a small town Jasmine, is destroyed by the arrival of monument restorers, Natasha, along with her daughter Eugenia. The legend associated with the monastery bode revelation in him a saint in the near future. Despite initial reluctance, Natasha starts the maintenance of the image stored there. The secrets of the monastery are unraveled: the unhappy lovers bodies placed in the catacombs, the secret elixir of love, created with the smell of the monks.
Here is a r
eview of the movie by Hari Yelleti
(International Film Festival): [...] Director Jan Jakub Kolski explores the idea of science versus faith in this beautifully shot Film where a woman art restorator Natasha arrives at a Monastery to restore and preserve aging paintings, particularly the Virgin Mary painting. She has a cute daughter named Eugenia who insists on others not using a petname on her. The Film is told through the voice over of and many times from the point of view of this five year old. [...]
NEXT: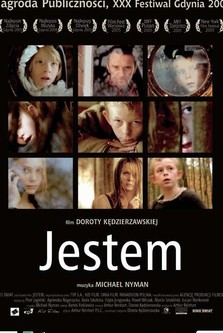 • Friday, June 16th, 7:30 in Polish Home:
Jestem
(2005) by Dorota Kędzierzawska - Drama
A self-reliable 11-year-old boy runs away from children's home to be with his dysfunctional mother. She doesn't want him back so he starts living on an old barge.